Sewer Rodding & Drain Cleaning Chicago & Suburbs

Clogged drains happen.
Even the best-built, most well-maintained homes in Chicagoland will experience the occasional clogged drain.  The list of causes can range from a hairball causing a clogged bathtub, to the roots of your neighbor's century-old oak infiltrating your sewer line.
Not to worry.  The Scottish Plumber has the experience and the equipment to handle any type of drain cleaning job, inexpensively.  From clogged toilets to slow kitchen sinks to sewer rodding Chicago homeowners can trust, we are here to help.
Scottish Full-Service $99 Sewer Cleaning
Our Scottish Full Service $99 Sewer Cleaning service is just that – a full service sewer cleaning (also known as sewer rodding, snaking, cabling, rooting, or unclogging) and a video inspection of the sewer pipe.
The Scottish Full Service $99 Sewer Cleaning service includes:
A thorough sewer rodding from an outside access (cleanout) up to 100 feet
A free video inspection following the sewer rodding
Up to a 1-year warranty on the rodding, based on the condition of the sewer pipe
Keep in mind that if there is no outside cleanout access available, an extra charge will apply, depending on the location of the access point.  Also, the $99 covers up to 100 feet of sewer.  For longer sewers, there is a charge of $99 for each additional 50 feet.
Other Drain Cleaning Chicago Area Services
The Scottish Plumber also provides:
Shower Rodding
Bathtub Rodding
Bathroom Sink Rodding
Kitchen Sink Rodding
Floor Drain Rodding
Yard Drain Rodding
Utility Sink Drains Rodding
Toilets
Main Sewer Rodding
…and more
How to Schedule an Appointment
To schedule an appointment, simply fill out the appointment form on this page, give us a call, or contact us here.
Tree Roots and Sewer Pipes – a Love/Hate Relationship.
Tree roots and sewer pipes go together like… well, it just really depends on who you ask.  Roots love sewers.  And since sewers can provide a nearly constant supply of nutrient-dense water to the trees, what's not to love?
Sewers, on the other hand, hate roots.  Roots are relentless in their efforts at pipe infiltration.  They will seek out weak points, wear away concrete joints, and patiently await their opportunity.   Then they will prod, poke, and probe until they're in.  Next thing you know, you have a clogged sewer.
Tree roots can grow outward as far as three times the branch spread of the tree.  This means that your sewer can be infiltrated by the roots of a tree several houses away.  And after a tree has been cut down, the roots can continue to grow for several years.  This means that cutting down a tree is almost never a good short-term solution for roots in a sewer.
The best way to eliminate a root infiltration problem is to replace the bad section of the sewer with a material impenetrable to roots, such as PVC pipe.  Another great solution is Trenchless Sewer Repair.  You can learn more about Trenchless Sewer Repair here.
Sewer Gas and Odor
If you experience sewer gas or odor in your house, you should first inspect your floor drain.  Every floor drain has a trap which holds water and prevents odors from coming back into the house.  If the water in that trap has evaporated, it could be the cause of the problem.  Make sure there is always water in the trap.
If this doesn't help, it could be the sign of a more serious problem, such as a broken sewer pipe.  If this is the case, give us a call.  Sewer gas can be dangerous and should be addressed immediately.
We have several options for finding the source of the sewer gas in your home, including Video Inspection and our special Smoke Test procedure, which can identify even the most hard-to-find leaks in your drainage system.
Learn more about our Smoke Test here.
Sewer Hydro-jetting
Our sewer hydro-jetting service or, simply, sewer jetting, uses high-pressure water to scour the inside of the drain pipe. It can cut through the toughest roots, eliminate soft blockages and deposits, and restore the pipe to near-original diameter. Sewer hydro-jetting is unmatched in its ability to clean the inside of a sewer pipe and in preventing future clogged drains.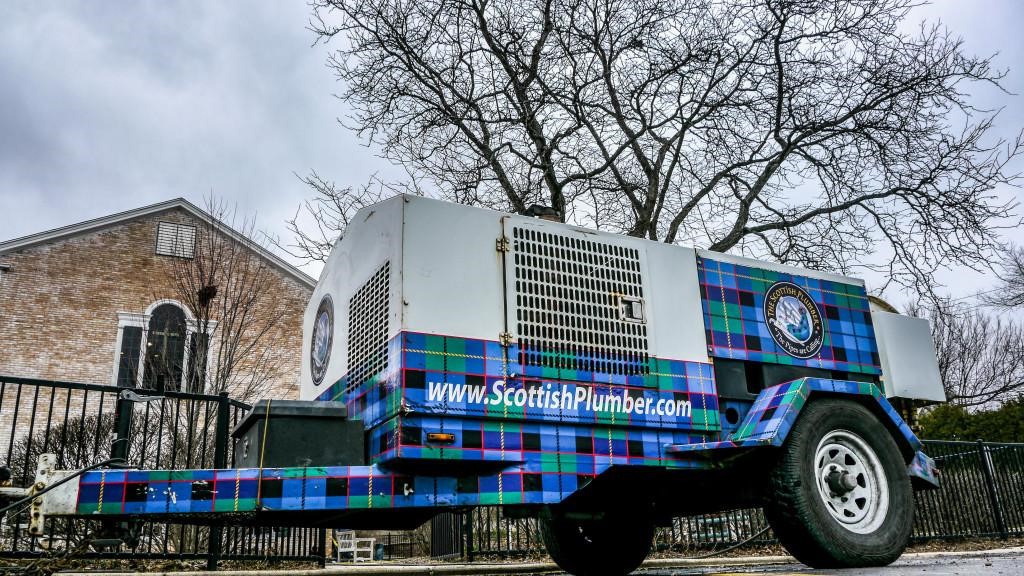 Our hydro-jetter
Bio-Clean for Drain Maintenance
A great way to maintain your drains is to use Bio-Clean regularly.  This special blend of natural bacteria and enzymes digests organic waste found in your plumbing system without causing damage to your pipes or the environment.  Learn more about Bio-Clean here.