Flood Control – Chicago & Suburbs – Stop Basement Flooding For Good – Free Estimates
Why Your Basement Floods
There are several reasons why a basement might flood, including an inadequate or broken sump pump, an improperly sized sump pit, or problems with your sewer line.  The worst floods, however, occur when a main city sewer backs up into your home.  That's right.  When the main city sewer fills to capacity, its contents become pressurized, and often the path of least resistance leads directly into your basement.
As anyone who's had three feet of sewage water in the basement will tell you, the results can be catastrophic.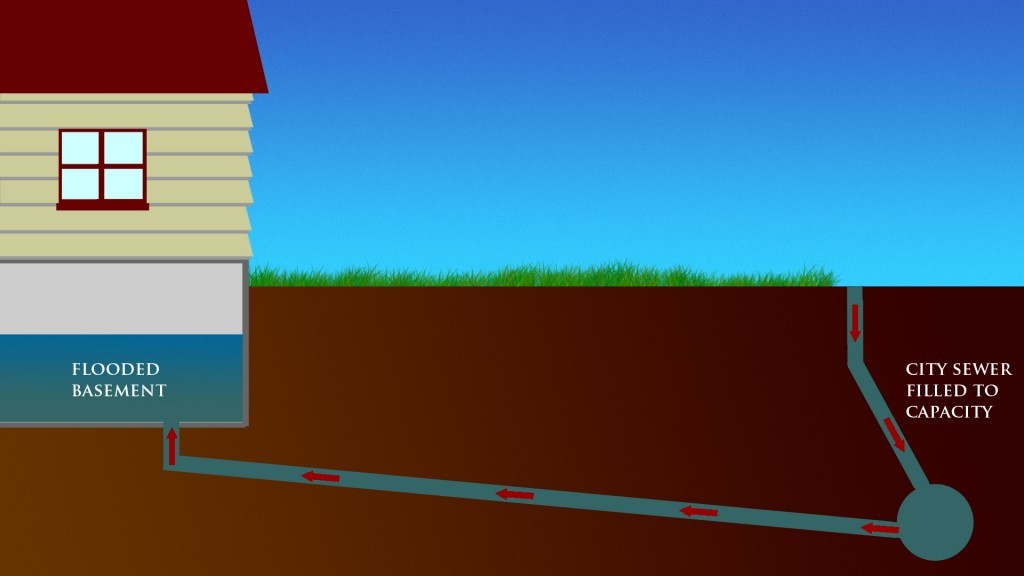 Backed-up city sewer
What You Can Do To Prevent Basement Flooding
Call The Scottish Plumber, or contact us here.  We'll send one of our professionals to your home at no charge to determine the specific nature of the problem and design a solution to your basement flooding problems.
We offer a wide array of options from basic sump pump installation to Tramco flood control systems to Trenchless Sewer Repair.  You can read more about each option below.  But rest assured, whatever the reasons for your basement flooding, we'll find the best solution for your particular needs and your budget.
Tramco Flood Control Systems
When it comes to a flooded basement, nothing says peace of mind quite like a Tramco flood control system.  Manufactured right here in Chicago since the 1950's, the Tramco flood control systems are built for Chicago homes with Chicago weather in mind.
These systems can be installed inside or outside of the home.  They are reliable, maintenance free, and come with a 10-year parts and labor warranty.  The system uses a heavy-duty pump inside of an aluminum encasement, and a system of check valves.  This allows for your waste to drain out to the main city sewer while ensuring that no city water or sewage backs up into your home – even during the most intense rain storms.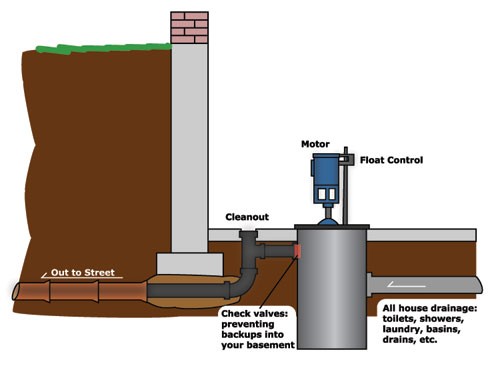 Typical Tramco Flood Control Installation
"Had your Tramco flood control installed recently. Everyone around me had their basement flood. My new system kept me dry and very happy. I did get some seepage but, after 7 inches of rain I would have needed a boat to go in my basement.  I am so happy with my new system.  I wish I would have done it years ago and saved countless hours of cleaning and throwing crap out. Thanks again for a great and reliable system". J.C. Des Plaines, IL
Double Check Valve Flood Control System
Another way to prevent a flooded basement is to install a Double Check Valve flood control system.  These systems are installed outside of your home, typically in the front yard.  A concrete basin or vault is installed over the sewer line.  Inside of this vault, an ejector pump and a couple of check valves work to ensure that the flow of your sewer line is directed away from your house.
During heavy rain, when the pressure from the city sewer pushes sewage and water back into your pipes, the check valves close, blocking the flow.  During this time, any waste draining out of the house, will drain into the vault.  Once the pressure from the city sewer recedes, the ejector pump pumps the contents of the vault out into the street.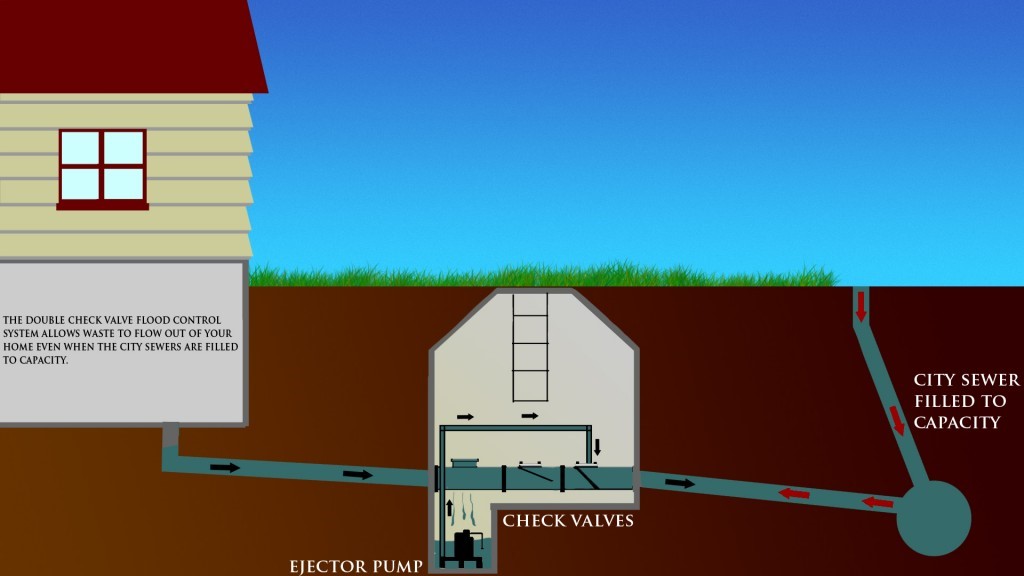 Typical Double Check Valve Flood Control Installation
Overhead Sewer Conversion
Another way to prevent municipal sewer back-flow into your home is to convert your existing gravity sewer to an overhead sewer line.  This basically raises your sewer pipe to above ground level at the house and ensures that even a pressurized city sewer can't reach that level.   Any plumbing in the basement is connected to an ejector pump and pumped up into the overhead sewer.  Any plumbing above basement level continues to drain by gravity.
Typical Overhead Sewer Installation
We recently installed an overhead sewer for one of our customers in Western Springs.  Here's what she had to say about it:
Flood Control Rebates
Several cities and villages in the Chicagoland area have begun offering rebates for flood control installation.  Some of these rebates cover Tramco Flood Control systems or double check valve flood control systems, as well as conversion to overhead sewer or the installation of a battery back-up sump pump.
Click here for a list of city and village rebates on flood control installation.