A Sewer Relining to Protect Your Property
Our epoxy sewer relining will fix sewer backups and leaks, and will prevent recurrence with minimal interference.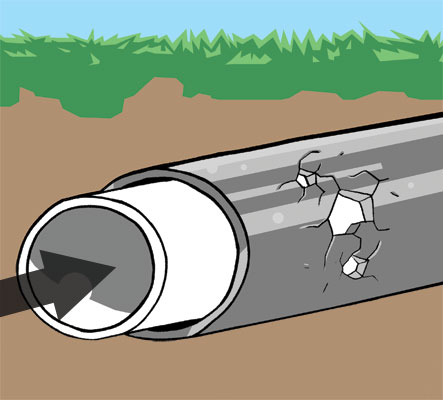 Sewer lines can become broken for several reasons including improper installation, settling, deterioration due to age, and even tree roots.  But no matter how the damage was caused, your main concern will be to repair it quickly.  Traditional sewer repair involves digging a trench to reach the sewer lines and replacing them in whole or in part, a process that can take days or sometimes even weeks to complete. But at The Scottish Plumber, we employ the latest in trenchless technology to reline sewer pipes and protect against further damage.
Why Sewer Relining Works
Sewer relining is the most functional and cost-effective way to fix a broken sewer. We reline existing pipelines with a resinous epoxy mixture that adheres to the walls of the pipe and in essence builds a brand new pipe inside of the old.  The new pipe is smooth, seamless, and stronger than any other material used in sewer construction today.
Sewer Relining with No Trenches
Inserting the epoxy sewer relining can be done quickly, and with little evidence apart from a few small holes in your lawn. Our technicians are able to monitor and inject the epoxy filled PVC into your sewer pipes from aboveground. As a result, your sewer system will be up and running in no time, and your lawn will remain nearly untouched.  This means no tearing up decks, no breaking up concrete, and no restoration.
Check Out Our Sewer Relining Crew in Action in this Short Video:
Why The Scottish Plumber?
When it comes to sewer relining and other plumbing services, you just can't beat The Scottish Plumber's prices or service. Since our inception, we have been committed to providing cutting edge plumbing services at reasonable prices, all delivered in an efficient and convenient manner. If you require sewer repair and are interested in our sewer relining services, call The Scottish Plumber at 1-888-451-6137.